We have all seen phones with 3.5" and 3.7" screen size. When we saw some phones with 4" and 4.3", we actually got confused as to how will people carry it. But now wait. Check this new phone from Acer which is 4.8" screen size. A bit less than Dell Streak's 5" but still it is huge. Check out the pic and specs below.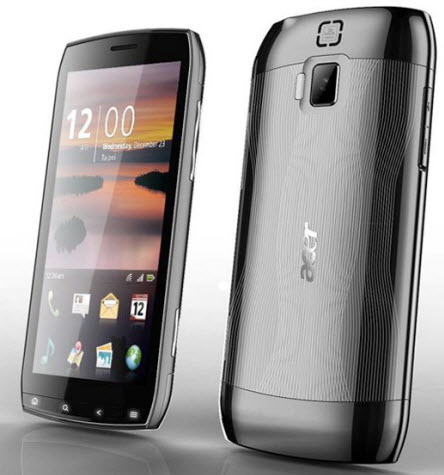 Acer recently announced a new smartphone with a tablet-like format. It features a huge 4.8 inch widescreen display with a 21:9 aspect ratio, full metal body, multi-touch, 8 megapixel camera with LED flash and so on. The high resolution 4.8 inch screen comes with 4 keys – Home, Search, Back, and Menu. Sadly, the company have not yet decided the name of this powerful device.
This handset comes with a 4.8 inch touchscreen display with 1024 x 480 pixels resolution, Android Operating System, 1GHz Snapdragon processor, Wi-Fi, Bluetooth 3.0, 3G Connectivity, 8 megapixel camera with LED flash, 2 megapixel front-facing camera, multi-touch, Java script optimization, Adobe Flash Player 10.1 support, MicroSD card slot, 32GB expandable memory, Dolby Mobile, 3.5mm audio jack, 6-axis motion sensing (Gyroscope + accelerometer) and more.
According to the rumors, this handset will be powered by the Android 2.3 (Gingerbread) OS. If this is true then we can expect Gingerbread updates for the existing 1Ghz phones also. The price and availability of this handset is not announced yet, but it is expected to hit the stores on Q1 2011. Stay tuned for further updates!